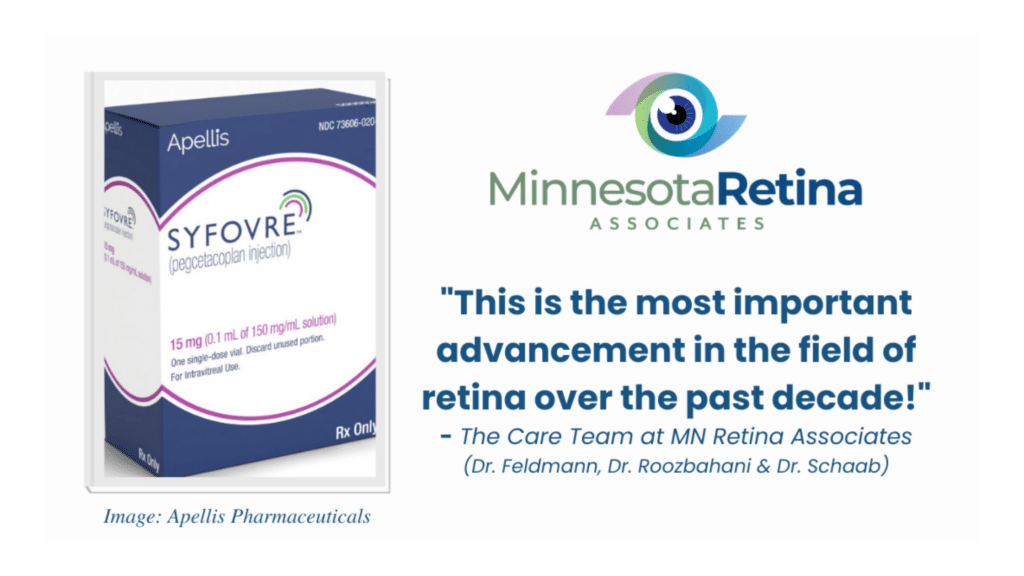 Our Minnesota Retina Associates providers are happy to announce that for the first time, patients with advanced stages of dry age-related macular degeneration (AMD) may have access to a treatment option. It is the beginning of a new era for the treatment of a potentially blinding condition.
The U.S. Food and Drug Administration (FDA) cleared SYFOVRE injection (pegcetacoplan by Apellis Pharmaceutical) for the treatment of geographic atrophy (GA) secondary to dry AMD. Retina specialists and other ophthalmologists are embracing this historic approval and the treatment option it offers to patients. Dr. Marni Feldmann, Dr. Mehdi Roozbahani and Dr. Tara Schaab, our retina specialists, spoke about the significance of this FDA approval.
"This is the most important advancement in the field of retina over the past decade. This is great news to our patients."
Our MRA retina doctors also explained that AMD is more common in the older population. In the United States, vision-threatening macular degeneration affects approximately 1 in 100 people over the age of 50, and 1 in 10 people over the age of 80. Published research further explains the correlation between age and the progression of AMD.
Although this medication cannot cure or reverse the disease, it can significantly slow down the progression of GA, which is one of the leading causes of vision loss and impacts at least 1 million people in the United States.
This medication is expected to be available to our patients beginning in late March. 
---