Retinal Tear
When patients have suffered a retinal tear, which can happen at any age without any warning, the focus of the retina specialists at Minnesota Retina Associates is to provide prompt in-office medical treatment to prevent extension of the tear toward a full retinal detachment, which has serious visual consequences.
What is a retinal tear?
The retina is the thin lining of the back of the eye, which is light sensitive and generates vision. Almost all retinal detachments start from a small retinal tear. In either instance, the retina will not function if it separates from its blood supply. Retinal tears and detachments can occur suddenly. Symptoms include "floaters" in the eye, flashing lights, and a shadow on the side of the eye that may progress towards the center of vision.
When a retinal tear occurs, it is important to be treated promptly, to avoid the risk of vision loss from a retinal detachment. If a retinal tear is diagnosed promptly, before it progresses to retinal detachment, the prognosis is extremely good. We can treat retinal tears at our offices in Bloomington, Golden Valley, and Hutchinson.
Retinal Tear
Retinal Detachment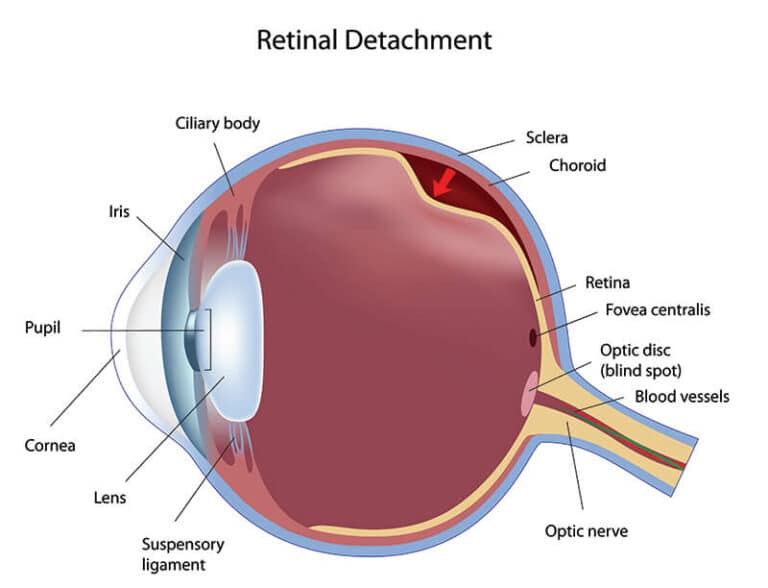 What are the symptoms of retinal tears?
Sudden flashing lights
Sudden onset of black spots or "floaters" in the eye
Shadow on the side of the eye that may progress towards the center of vision.
Gray curtain covering part of the field of vision
What are the risk factors for retinal tears?
Aging
Nearsightedness
Eye surgery
Trauma
Want to learn more about Retinal Tears or Retinal Detachments? Click the button below to contact us today!
Contact Us
How are Retinal Tears and Detachments Treated?
Retinal tears are typically treated in the office. Treatment is very effective and quite safe. Some retinal tears, specifically if localized, can be successfully treated with laser retinopexy. However, if laser is not successful, or is not an option, Minnesota Retina can handle your surgical referral.
In-Office:
Laser surgery – A laser treatment that helps "weld" the retina back in place by making tiny burns around the retinal tear.

Cryopexy – A freezing treatment that helps reattach the retina by freezing the area around the retinal tear.

Pneumatic Retinopexy – A gas bubble is placed inside the eye to hold the retina in place.
Surgical Referral:
Vitrectomy – A surgical treatment that involves replacing the gel-like substance in the eye with gas, which creates pressure that holds the retina in place.

Scleral buckle – The surgical placement of a scleral buckle (a tiny rubber or plastic band) gently holds the eyeball and the detached retina together.
FAQ: Retinal Detachments and Retinal Tears
locations
Serving Our Community
Serving patients in Bloomington and Golden Valley areas.
Bloomington
Minnesota Retina Associates
9801 Dupont Ave S., Suite 110
Bloomington, MN 55431
Golden Valley
Minnesota Retina Associates
8501 Golden Valley Rd., Suite 200
Golden Valley, MN 55427
Hutchinson
Minnesota Retina Associates
1455 Montreal St SE
Hutchinson, MN 55350